Launching of new models RayZR and Saluto Rx by hounarable AGM Biju San,Sales Manager Ratheesh M nair and Network Manager Vinod Varghese
Very First Delivery of Yamaha Rayz R to Mr Praveen Raj ,at Muthoot Yamaha Killipalam Showroom
BIKE BIRTHDAY CELEBRATIONS
The Muthoot Pappachan Group today announced its association as the Title Sponsor of one of the biggest team of Indian Super League (ISL) – Kerala Blasters , the Indian Super League football team of Kerala.
The association as the title sponsor was announced jointly by Mr Thomas George Muthoot, Director of Muthoot Pappachan Group and Cricket legend SachinTendulkar.
Muthoot Fincorp to act as biz correspondent for banks
Online Report - Business Standard

Business Standard

Mr Thomas John Muthoot speaking during the Union Budget Impact Analysis 2014 conducted by CII Thiruvananthapuram Zone at Hotel Hilton Garden Inn, Punnen Road, Thiruvananthapuram on 14th July 2014
Panel members:
1. Mr Thomas John Muthoot - Vice Chairman, CII Thiruvananthapuram Zone & Chairman & Managing Director Muthoot Pappachan Group
2. Mr Koshy Eapen P - Director, B S R & Associates LLP
3. Mr Venkatesan R - Partner, BSR and Company
4. Mr G Vijayaraghavan - Member State Planning Board
5. Mr V K Mathews - Executive Chairman The IBS Group
6. Dr M I Sahadulla - Chairman & Managing Director Kerala Institute of Medical Sciences
7. Mr S Srinath - Senior Advisor, KPMG
Expectations of Mr. Thomas John Muthoot from the new Narendra Modi Government.
Muthoot Pappachan Group has got a new address in Mumbai Sunshine Tower Dadar.
Muthoot Pappachan Group launches its national corporate campaign 'Believe in Blue'
31st March, 2014: Muthoot Pappachan Group (MPG) established in 1887 is a diversified conglomerate with an overwhelming presence in multiple verticals including Financial Services, Hospitality, Automotive, Real Estate & Infrastructure, IT Services, Healthcare, Precious Metals, Global Services and Alternate Energy. The group today announced the launch of its first national TV campaign with the tagline 'Believe in Blue'
The 'Believe in Blue' TV campaign which goes on air from March 31, 2014, focuses on the concept of trust apart from building a distinct identity Muthoot Pappachan Group. Trust always has a two-way interaction. It is something that the Muthoot Pappachan Group has followed obsessively over the years. Every dialogue that the group has with customers, staff and with the outside world starts with the belief that people are inherently trustworthy. This faith has resulted in millions placing their trust in the comforting familiarity of the blue logo of Muthoot Pappachan Group. The film, conceptualized by Taproot India and directed by Prakash Verma from Nirvana Films, gives the viewer a glimpse of the two sides of belief. It takes him on a journey of a relationship that begins with trust. One which, at its peak, leads to belief that lasts a lifetime, the kind of belief that people have in the Muthoot Pappachan Group.
Commenting on the unique campaign, Mr. Thomas George Muthoot, Director, Muthoot Pappachan Group, said: "Over the last 127 years, the Muthoot Pappachan Group has grown from a small business to a large conglomerate. And what has brought us here is trust. We owe our success to the customers who have consistently believed in our services & efforts. The campaign builds beautifully on this trust, by showing the different sides of it; and also effectively differentiates us from competition." Mr. Muthoot further added.
Agnello Dias, Creative Director, Taproot said, "Belief has two sides, but we usually focus on just one. The idea was to explore both the sides of belief. The belief that the Muthoot Pappachan Group places in people, which has led to millions believing in the Muthoot Pappachan Group"
The TVC begins at a restaurant where a father and son are sitting outside at the restaurant lawn, while another father and his two sons are inside the restaurant. The moment it starts raining, the father who is seated at the restaurant lawn looks alarmed and worried and starts hurrying inside the restaurant with his son for cover while the father who is sitting inside the restaurant is happy & full of excitement and takes his two sons outside to enjoy the rain. The campaign leaves us with a thought about how two father-son pairs look at the same circumstance differently because of the level of belief that they have in themselves and the world.
The TVC will be aired on the news channels from March 31, 2014.
Creative Credits:
Creative Agency - Taproot India
Creative Director - Mr. Agnello Dias
Production House - Nirvana Films
Film Director - Mr. Prakash Verma
Online Sites - Afaqs.com

Deepika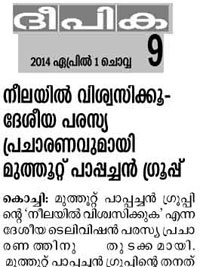 Muthoot Pappachan Group"Believe in Blue" TVC 90 seconds
Muthoot Pappachan Group "Believe in Blue" TVC 45 seconds
Corporate video
Muthoot Fincorp associates with Ezhu Sundara Rathrikal
Muthoot Fincorp co-partner with the new Malayalam movie Ezhu Sundara Rathrikal, directed by Lal Jose and produced by Rateesh Ambat, Prakash Verma and Jerry John Kallat. - Click here to view

Muthoot Fincorp new TVC - Click here to view

Hilton Garden Inn Trivandrum to be the city's first internationally-branded hotel.
TRIVANDRUM, December 19, 2013Hilton Worldwide and Muthoot Pappachan Group today announced that it will introduce the Hilton Garden Inn brand in Kerala with the opening of Hilton Garden Inn Trivandrum on December 27, 2013. Hilton Garden Inn is an award-winning brand of upscale yet affordable hotels. Strategically located in the city centre on Punnen Road, Hilton Garden Inn Trivandrum is near prime government institutions and commercial establishments, a 20-minute drive from the airport and 12 kilometres from the IT Technopark at Kazhakkottam ―The opening of Hilton Garden Inn Trivandrum will be a significant step in Hilton Worldwide's expansion into prime city centre locations across India,‖ said Guy Hutchinson, vice president, operations – India, Hilton Worldwide.
Owned by Muthoot Hotels & Infrastructure Ventures (P) Ltd. and managed by Hilton Worldwide, Hilton Garden Inn Trivandrum features 134 guest rooms and suites, Garden Grille all-day restaurant, a bar, outdoor swimming pool, Precor certified 24-hour fitness centre and 2,600 square feet of conference and events space that can accommodate up to 450 people. Guests at the hotel will also be able to enjoy the Hilton Garden Inn brand's signature offerings that include complimentary internet access throughout the hotel, 24-hour business centre services, remote printing facility and the 24-hour Pavilion Pantry convenience mart.
Adrian Kurre, global head, Hilton Garden Inn said, We are pleased with this opportunity to extend the brand's presence in India. Hilton Garden Inn has set the standard in the mid-market sector offering an award-winning combination of best-in-class customer service and affordable comfort and convenience. We are confident that Hilton Garden Inn Trivandrum will fast become the first choice of travellers seeking upscale and affordable accommodation in the city.
"The Muthoot Pappachan Group is delighted to partner with Hilton Worldwide, a global leader in the hospitality industry, for its foray into Trivandrum and the introduction of the Hilton Garden Inn brand in Kerala and Trivandrum. With the opening of Hilton Garden Inn Trivandrum, we look forward to providing world-class international standards of hospitality in Kerala, said Thomas John Muthoot, chairman and managing director, Muthoot Pappachan Group.
Hilton Garden Inn ,now in Trivandrum
Online Report - IANS Live

| | | | | |
| --- | --- | --- | --- | --- |
| Business Line | | Times of India | | Malayala Manorama |
| | | | | |
Hilton Press Meet
Muthoot Fincorp enters the final round of The 2013 UP-START Cloud Awards.
The 2013 UP-START Cloud Awards are now established in the cloud community as the de-facto recognition platform to cultivate the understanding, appreciation and advancement of the contribution of cloud computing to the business and technology community. Disruptive and next generation Cloud Computing companies, as well as innovative stealth mode / emerging solution providers, are invited to step up to the plate and showcase their capabilities to receive a coveted industry recognition, as well as a tangible prize.
Muthoot Fincorp is a finalist in the 'Best Hybrid Cloud Solution' Category - Read more

Muthoot Pappachan Foundation organizes blood registration drive across the country.
News Today
Trinity Mirror
Malayala Manorama
Mathrubhumi
Veekshanam
Deepika
New Age
Maalai Sudar
Makkal Kural
Kathir Mathi
Maalai Thamizhagam
Muthoot Pappachan Life Blood Directory, a strategic CSR initiative of the Muthoot Pappachan Group organized a blood directory registration drive throughout its 3,700-odd Muthoot Fincorp branches, in different states, across the country. The drive which commenced around the National Voluntary Blood Donation day has seen an encouraging response from Blood Donors across the country marking over 50,000 registrations in the directory. Muthoot Life Blood Directory has also announced launch of the Champions Programme, a pilot initiative in Kerala wherein 70 volunteered staff will spread the message across Kerala about Blood Donation and will appeal to the general public to register in the Muthoot Life Blood Directory. These staff are trained on the concepts of Voluntary Blood Donation and are equipped to reach out to communities and social forums enabling a positive change among the people.

Smt. K Chandrika, Hon'ble Mayor of Trivandrum commenced the programme on 10th November. Speaking on the occasion, Smt. K Chandrika, Hon'ble Mayor of Trivandrum said, "Trivandrum has been facing the scarcity of blood donors, as the need of blood donation has been rising at an alarming rate. Through this initiative, we appeal to general public to be part of this noble cause."
The national drive, which marks over 50000 registrations so far across India, has seen an enthusiastic response from donors in states like Tamil Nadu, Kerala & Andhra Pradesh marking more than 70% of the total registration, in the directory. "Muthoot Lifeblood Directory, one of our initiatives under the CSR Health theme, aspires to establish the largest Voluntary Blood Donor Pool in the country. It is not just a CSR activity for us; but we are instrumental in building a platform to address one of the critical requirements of our country in the health sector – Life Blood. We also intend to alleviate the stigma on blood donation and in turn support people in need. " said Mr. Thomas John Muthoot, Chairman & Managing Director, Muthoot Pappachan Group.
The directory includes a prominent presence of donors with rare blood groups, which accounts for 17 per cent of the total donor list. The rare blood group list comprises of over 8500 donors that include donors from rarest blood groups likes Bombay Group (1 nos), ARh-ve (1 nos), A2B- (2 nos), A2- (7 nos), A1B- (29 nos), A2B+ (63 nos), A2+ (70 nos), A1-ve (175 nos) etc. Over 300 patients have been supported by the Lifeblood Directory with over 500 units of blood, donated from its esteemed voluntary donors.
The Muthoot Life Blood Directory was launched, on the National Voluntary Blood Donation Day 2012. A full-fledged portal www.muthootlifeblood.com was developed enabling Muthoot Fincorp branches to log in, to locally register new donors and post requests for blood. The location specific donor management process is supported through this portal. The portal is also publicly accessible to check the availability of Donors at required locations on a district basis. Its services are available across the nation, enabling a 24x7 help desk access through a toll free number 1800 300 00 109.
Gold Loan portfolio will reach estimated growth; Housing Loan and Microfinance business to see robust growth .
In an exclusive chat with Mr. Vishwanath Nair of The Financial Express, Thomas John Muthoot, CMD, Muthoot Pappachan Group speaks about thegrowth of the Housing Loan and Microfinance businesses and why growth for the Gold Loan portfolio will not be hampered by the recent regulatory norms.
MPG associates with INK Conference 2013
INK (Innovation and Knowledge) Conference , is a stimulating experience created around simultaneous workshops, projects, contests, speaker interactions, and more. With this global gathering of artists, entrepreneurs, scientists, musicians, bloggers, inventors and illustrious thinkers, all under one roof, INK provided exposure to new ideas, broadens horizons and creatively engages everyone in meaningful dialogue. The 2nd edition of INK was held in Kochi, Kerala from October 25th-27th, 2013.
Here is just one of the many incredible stories Sabriye Tenberken

Here is Mrs. Usha Uthup joined on stage by her daughter and granddaughter for some foot-tapping, soulful music -Mrs. Usha Uthup

Mr R. Manomohanan addresses CII Kerala Finance Conclave 2013.
Kochi 23 October : The Confederation of Indian Industry (CII)'s Kerala Finance Conclave 2013 was held today at the Taj Gateway, Kochi. Represented by prominent Financial Institutions in the state, the conclave provided a platform for companies across the spectrum of financial services to present and discuss their concerns, challenges and growth stories. Mr. Manomohanan, CEO - Muthoot Capital Services, spoke on 'Financial inclusion & the growing role of NBFC's across the nation'.
MPG inaugurates the Security and Vigilance Headquarters .
Trivandrum ,18th Oct . MPG today inaugurated its Security and Vigilance Headquarters in Trivandrum ,Kerala . Connected to the branch network pan India , the centralized vigilance monitoring cell will enable MPG to keep a close watch on the activities inside the branches there by negating frauds and offering security to the customers assets and employees . MPG already had nodal monitoring office in key locations, which will now be overseen by the new control room .
The next leg of growth will be more balanced – Thomas John Muthoot – Hindu Business line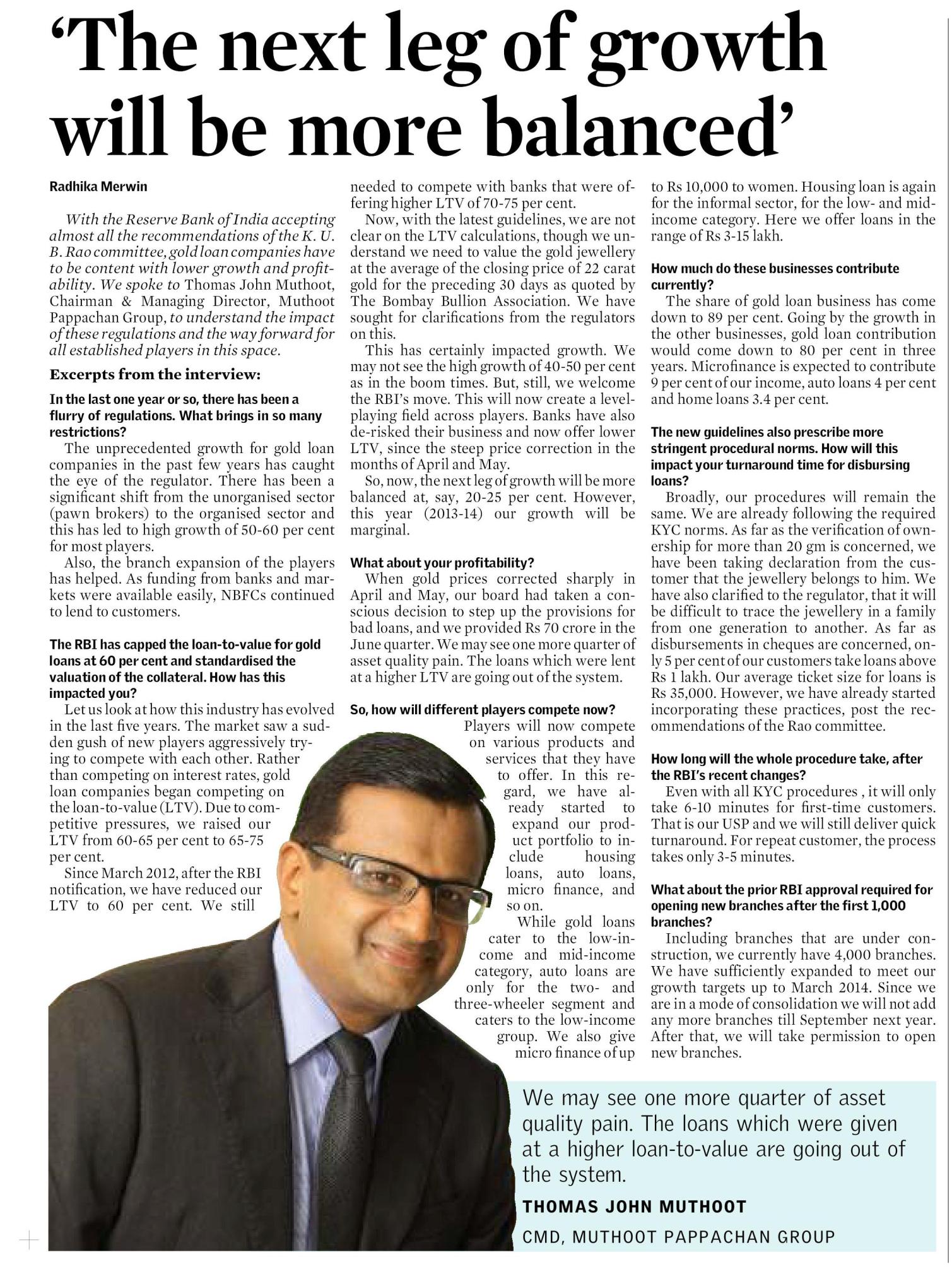 Online report :hindubusinessline.com

Thomas John Muthoot, Chairman & Managing Director of Muthoot Pappachan Group, talks about the impact of RBI regulations and the way forward for all established players in the gold loan space.
Mr Jayakrishnan P., AVP-IT receives CIO Award
In the 8th Indian edition of the CIO100 Awards & Symposium hosted in Pune on 5th & 6th Sept 2013, P. Jayakrishnan, AVP-IT wins the CIO100 business technology leadership award for Muthoot Fincorp's Cloud Sync IT project implemented to collect branch data at a central location using cloud technology. The project facilitates the availability of online, on demand management information which aids corporate MIS, effective audit, customer service etc. The award, instituted by CIO Magazine has a long tradition of honouring leading companies for business and technology leadership and innovations through its premiere award program—CIO100. Other organizations that won the award alongside are Wipro, Infosys, HDFC, Bajaj, Renault, Philips, Hindalco, Lakshmy Vilas Bank, ING etc.
Muthoot Honda technician qualifies for the Honda Asia & Oceania Technician Contest 2013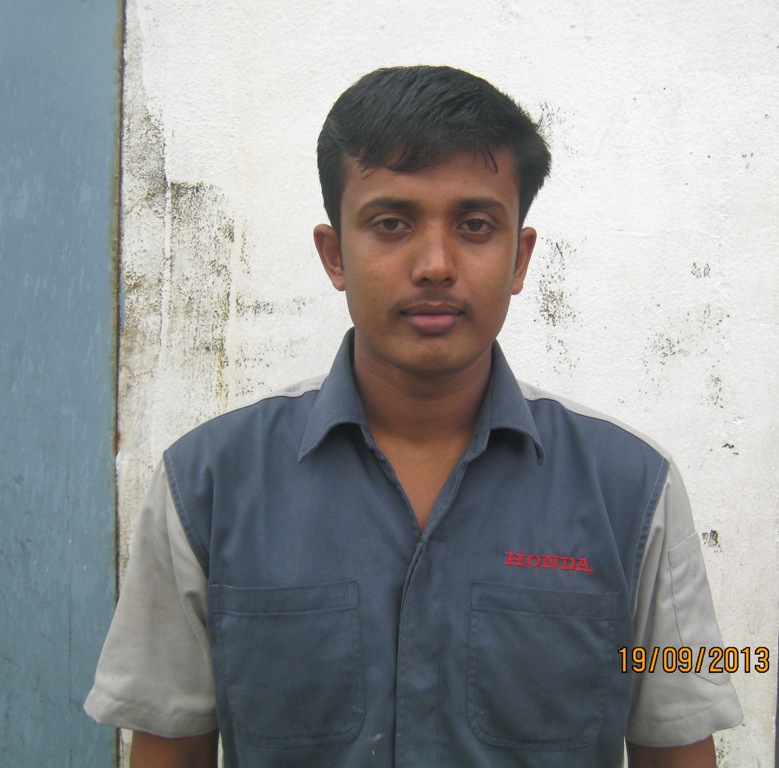 Mr. Sreeraj. R Pillai of Muthoot Honda, Kollam has qualified for the national round of the Indian leg of the Honda Asia & Oceania Technician Contest 2013 in the Body Shop Category . Sreeraj is only technician from the south zone to qualify for the nationals to be held in the first week of October at Noida.The winners of the national round will represent Honda Cars India at the 10th Asia & Oceania Technician Contest to be held at Bangkok in December 2013. We wish Sreeraj the very best.
Pattom Showroom inauguration by Thomas John Muthoot – CMD Muthoot Pappachan Group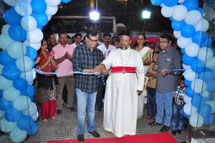 Pattom Showroom inauguration by Thomas John Muthoot – CMD Muthoot Pappachan Group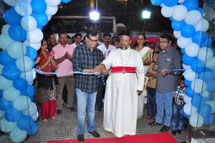 Dr. Shashi Tharoor launches Muthoot Pappachan Group's Life Blood Directory Portal and Helpdesk




The Times Of India
22 June 2013
Malayala Manorama
22 June 2013
Mathrubhumi
22 June 2013
Metro Vaartha
22 June 2013


Veekshanam
22 June 2013
The Hindu Business Line
22 June 2013
The New Indian Express
22 June 2013
22-06-2013
Trivandrum, June 22, 2013: Dr. Shashi Tharoor , Union Minister of State for HRD inaugurated Muthoot Pappachan Group's Life Blood Directory Portal and Helpdesk facility here today. The Muthoot Pappachan Life Blood Directory organized by Muthoot Pappachan Foundation is now live with its Portal and Help Desk. It is for the first time that such a help desk facility is being organized with a country wide reach. Following the World Blood Donor day on June 14th , all branches of the Muthoot Pappachan Group (over 3600 nos) have been equipped to support the donor management process.
The pilot of the Directory commenced on October 1st 2012 , the National Voluntary Blood Donation Day, by opening the Directory through the Muthoot Fincorp branches in Kerala. Any willing person can voluntarily join the Directory by signing the consent form at any Muthoot Fincorp branch. Within this short span of the pilot phase, more than 30,000 people have registered in the Directory at the branches of Muthoot Fincorp. Most of the Group Company staffs are also members of the Directory. More than 100 donations were done through the Directory.
Entering into the second phase of the process, where the system is supported by a portal for the Muthoot Fincorp branches to register new Donors to the Directory as well as posting blood requests from any part of India. The requests will be processed at a central Help Desk. The Donor Management is done at the help desk and confirmation from prospective Donors based on the required units and location will be intimated to the patient's relatives at the earliest.
Any person can register in the Directory by just walking into any of the nearest Muthoot Fincorp branch and providing their personal information and signing the consent form. Also they can access the portal through the domain www.muthootlifeblood.com to locate the nearest Muthoot Fincorp branches for both registering in the Directory as well as for placing request for blood in case of emergency for their near and dear ones.
Yamaha Ray scooter was launched in Trivandrum at Muthoot Motors.

10-10-2012
First Vehicle key was handed over to Mrs Shiba from AGM Biju Kumar San.
REWARDS FROM 1994 TO 2009




MUTHOOT YAMAHA'S FAMILY ONAM FEST

YES CARAVAN ACTIVITY

MOBILE VAN FLAG OFF AND SERVICE
SALES & SERVICE CAMP
R15 LAUNCH AT MUTHOOT PLAZA

PRESS MEET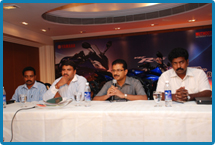 VISIT VIP FROM YAMAHA AT OUR DEALERSHIP